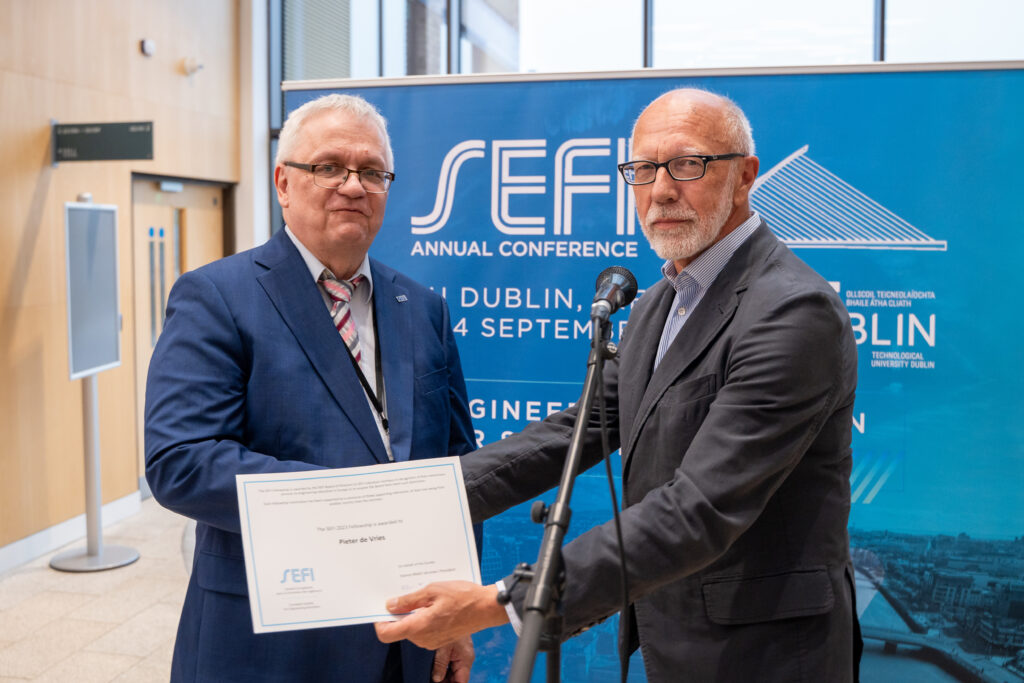 Another noteworthy individual deserving recognition with the SEFI Fellowship award is Pieter de Vries, celebrated for his illustrious career and exceptional contributions to education and technology. His significant impact in the field is remarkable and certainly merits celebration. We are honored to welcome him as a SEFI Fellow, and it is our privilege to provide a more in-depth introduction to his remarkable achievements in this article.
Pieter de Vries possesses an academic background that is both diverse and intriguing. His interdisciplinary journey spans Education, Human Geography, Mass Communication, Instructional Technology, and Online Learning. He has been an integral part of the Systems Engineering Department at Delft University of Technology in the Netherlands for many years. Pieter's profound impact extends into the domain of Engineering Education. Over the years, he has accumulated much experience in this field, fostering innovation and educational excellence. Notably, he has initiated and nurtured groundbreaking initiatives related to faculty development and research for open and online education.
Pieter's dedication to SEFI spans over a decade, showcasing his enduring commitment to the organization's mission and values. In 2012, he assumed leadership of the SEFI Working Group for "Open and Online Engineering Education," a role he embraced with passion and expertise. Furthermore, Pieter's contributions to SEFI were marked by his service as a member of the SEFI Board of Directors for two terms, culminating in his appointment as SEFI Treasurer in 2019. Pieter de Vries demonstrated a pragmatic approach to addressing internal challenges. He took proactive steps to implement new administrative and financial processes, ensuring greater accuracy and transparency in SEFI's financial operations.
Beyond his professional achievements, Pieter de Vries is known for his willingness to collaborate, offer assistance, and share his extensive expertise. Colleagues often highlight his unwavering positivity and the warm smile he extends to everyone. For this reason, it is with great pleasure that we awarded Pieter de Vries with the SEFI Fellow. His diverse academic background, pioneering contributions to Engineering Education, and exemplary leadership as SEFI Treasurer make him deserving of this honor. Pieter's positive influence and dedication have left an indelible mark on the field of education and technology, embodying the core principles of SEFI.