In recognition of her outstanding contributions to engineering education and her unwavering commitment to SEFI, Yolande Berbers has been awarded the esteemed title of SEFI Fellow!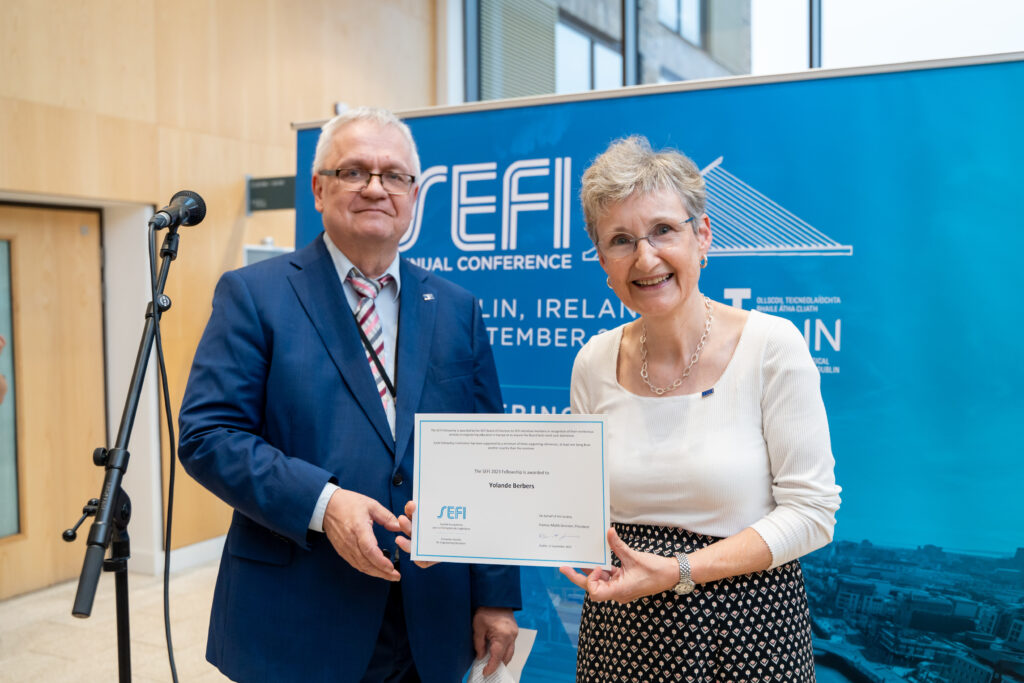 Yolande Berbers, a distinguished Professor of Computer Science at KULeuven and a member of the Royal Flemish Academy for Science and the Arts, has significantly influenced the field with her expertise in distributed systems and computer networks. Her remarkable journey in academia and leadership roles within SEFI has left an indelible mark on engineering education.
Yolande's journey with SEFI has been nothing short of remarkable. She has served in various capacities, including as a Special Interest Group (SIG) chair and a dedicated member of the SEFI board. Her SEFI journey began in 1985 while she was a senior lecturer at the Polytechnic of Central London. Over the years, Yolande's dedication became evident as she served as the secretary of the Curriculum Development Working Group, earning a Fellowship Award in 1997.
Yolande's leadership within SEFI peaked when she became Vice President and later President, presenting a compelling vision for the organization's future, and her memorable presentation during the election in Budapest garnered widespread support. Even after her presidency, she continued to contribute by taking on the duties of Secretary General without compensation, demonstrating her commitment to the organization's well-being.
Known for her sense of humor and warm demeanor, Yolande's dedication extends to her family and work. Her meticulous preparation and unwavering commitment to SEFI have left an enduring legacy. As Yolande humorously contemplates retirement, her passion for SEFI remains steadfast. She is a deserving recipient of the SEFI Fellow title.
Congratulations to Yolande Berbers, a SEFI Fellow whose legacy will continue to inspire the engineering education community!