First speakers announced: European Convention for Engineering Deans
Professor Todd Davey, Associate Professor of Entrepreneurship, Institut Mines-Télécom Business School  – Director of Executive Education UIIN
TODD DAVEY is an Associate Professor of Entrepreneurship at the Institut Mines-Télécom Business School in Paris and a visiting researcher at Imperial College (UK), Technical University of Vienna (AUT) and the University of Adelaide (AUST) in the topics of entrepreneurship and innovation. Formerly a Senior Manager with Deloitte Australia's Technology Commercialisation Group and part of the executive team for one of Australia's fastest growing tech start-ups in the 2000s, Todd has 'switched sides' to work within academia, completing his PhD at the VU Amsterdam. He was the Project Director of the largest study yet completed into cooperation between European universities and business, a study completed for the European Commission in 2010 and again in 2017. Todd is the author of the book 'Entrepreneurship at Universities', co-editor of the Future Universities Thoughtbook, a Director at the University-Industry Innovation Network (UIIN) as well as at the Science-to-Business Marketing Research Centre, Germany and the creator of TechAdvance™, a tool for evaluating technologies.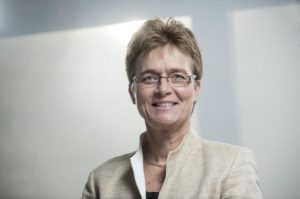 Saskia Van Uffelen, Digital Champion Belgium
SASKIA VAN UFFELEN has been working in the sector of information and communication technology (ICT) for over 25 years. She has held national and international sales and marketing functions in leading companies such as Xerox, Compaq, HP, Arinso, Bull and Ericsson.
Since 2012, the federal ministry of economic affairs appointed Saskia Van Uffelen as 'Digital Champion' for Belgium representing the European Commission.  To stimulate the roll out of the Digital Agenda in Belgium she sensitizes all parties involved in 5 areas:
Digital Economy
Digital Government
Digital Infrastructure
Digital Security
Digital Skills
As a manager, Saskia Van Uffelen always keeps a keen eye on the human aspects of collaboration in a company. She focusses heavily on ensuring the synergies between the different generations present in the workplace.
In interviews, opinion articles and her book 'Iedereen Baas! – Tous Patron!' she encourages her colleagues to pay more attention to it as well.
As a female role model in the ICT sector she has been honored
in 2011 as ICT Woman of the Year (Data News)
in 2013 Inspiring Lady of the Year in Science, Technology and Research in Luxembourg (Inspiring Wo-Men)
in 2016 with the Award for 'Economical Driver' awarded by the association 'Movement Flanders-Europe'
nominated as Manager of the Year 2019 (Trends)
Leadership Award 2018 from Etion for her role model function and engaged entrepreneurship
Saskia Van Uffelen is married and a mother of five.
You may register to the ECED 2019 until 6 May.