Engineering Skills for a Future to Build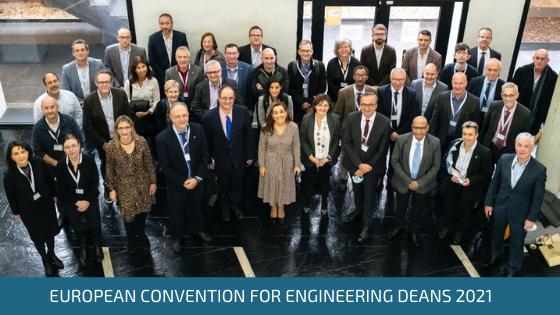 Universidad Carlos III – Madrid – 17-19 November 2021 – The first in-person event of SEFI was the European Convention of Engineering Deans. Although online participation was also possible, most attendees travelled to Madrid not to miss the opportunity to meet up with peer and discuss How to prepare their students to work in a non-defined future, where boundary conditions are continuously changing and multiple stakeholders take part.
An array of speakers and diverse topics were carefully curated by those in charge of organisation: Daniel Segovia and Elisa Ruiz from UC3M and Gerhard Mueller and Luis Sanchez from SEFI.
The keynotes were delivered by Helmut Schönberger, VicePresident – TU Munich, Ramiro Jordan, University of New Mexico, IFEES; Mariola Penadés, UCH-CEU, Johns Hopkins University; and Carlos Ripoll, Head of institutional Projects, UPV.
The selected topics reflected the very important challenges of (not only) engineering education. University alliances and mergers – on how to best take advantage of cooperations and how we should evaluate this. Then we discussed Transdisciplinarity and how to include non-engineering disciplines, including the input of economic, social or legal, environmental in the engineering education. The final topic was dedicated to the broad contextual challenges and future engineers' role in drafting policies.
The 40 participants onsite could once again appreciate the benefits of the face-to-face networking event, while the online participants from Europe and overseas could attend the presentations live and interact in the breakout sessions.
We would like to thank the organisers for their fexibility and patience during the 2 years of preparations, for this Deans Convention. The next SEFI Deans Convention will take place at Twente University in 2023.