CTI 2020 Annual Conference
The annual CTI conference was held on Tuesday 11 February at Bordeaux INP on the theme "Competency-based approach and pedagogical alignment".
This topic was considered the most relevant by the CTI members because it concerns more particularly the European Standards and Guidelines 1.2 and 1.3 and also because it is the central topic for ENAEE (EUR-Ace Label). About 500 participants, mostly from Europe and Africa, attended the conference.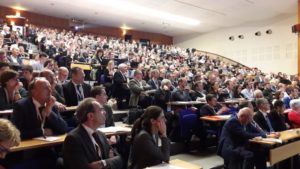 After an interactive presentation, led by Yves Maufette (Université du Québec à Montréal) and Yvan Pigeonnat (IMP Grenoble) on the notions of competency-based approach and pedagogical alignment; workshops led by Benoit Raucent (UC Louvain la Neuve) and other French experts on this topic allowed attendees to come up with solutions for pedagogical alignment, competency assessment and competency repositories building.
A round table on change management within institutions in order to implement this approach closed the day.
The attendees were very satisfied with the event and being able to work on the description of competencies.
Slideshows and summaries of the workshops are available on the CTI website (all materials are in French)