IMPORTANT UPDATE: Due to the Coronavirus pandemic, and the unpredictable situation regarding international travels for June while having all face-to-face classes at KU Leuven suspended until the end of the academic year, we have decided to postpone the event for 2021. Thank you very much for your kind understanding!
22 – 25 June 2020, Leuven (BE)
The 2020 SEFI Doctoral Summer School provides an opportunity for PhD research students engaged in engineering education research (EER) to learn from experts and their peers. Download a PDF invitation.
Students will participate in workshops led by experts, centered around aspects of research in EER such as:
Introduction: What makes EER so special? Journals, reference papers, ontology, epistemology, research groups in Europe.
Quantitative Research Methods Data collection (surveys, experiments, etc) and data analysis (statistical analysis, quantifying
subjective data, common flaws, etc.)
Qualitative Research Methods Data collection (interviews, focus groups, think-aloud, etc.) and Interpretative analysis of the data within different research methodologies (Grounded Theory, Phenomenology, Phenomenography, Case study, etc.)
Participants will have the opportunity to engage with the engineering education community and to present their current research and receive feedback from other students and experts.
APPLICATIONS
The places in the Summer School are limited. Before you can register, you need to apply for this summer school. Applications are open until 5 APRIL 2020. At the latest, BY THE END OF APRIL 2020 you will receive an e-mail confirming or declining your application. APPLY HERE
ORGANISATION
The summer school is organised to foster discussion and thus numbers will be limited to 20 students to facilitate a comfortable environment. All sessions have a highly interactive format, facilitating the exchange of ideas and opinions. Participants will be required to prepare work before the summer school and to engage in exercises each day to prepare for an in-depth discussion of specific topics.
WHAT IS INCLUDED?
The cost for each participant is €300 which includes lunches and coffee each day. Participants need to make their own accommodation arrangements. More information will follow on the website.
WHO CAN ATTEND?
PhD students conducting research in engineering education are invited to apply. The application form will be available soon on the website.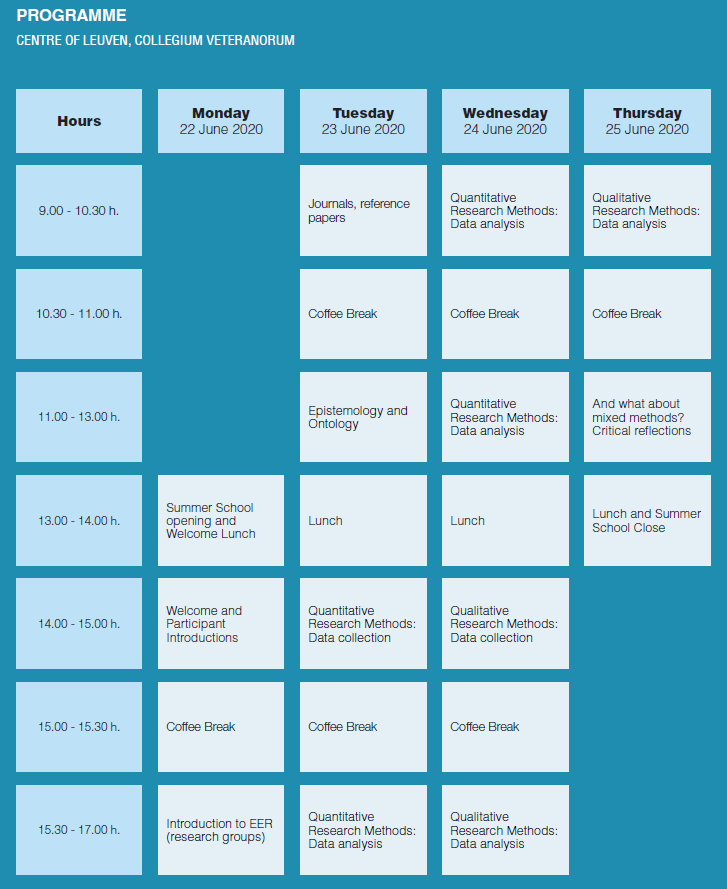 WEBSITE: https://iiw.kuleuven.be/english/phd/sefi-summer-school-eer/sefi-summer-school-Engineering-Education-Research
CONTACT: summerschoolEER@kuleuven.be