REGISTRATION OPEN: ECED 2019 in Leuven
11th SEFI Deans' Convention – 26-28 May 2019 – KU Leuven, Belgium
The 11th edition of the  European Convention of Engineering Deans – Challenges in university-business cooperation in engineering education: Crossing Borders. The convention will be be organised by KU Leuven and SEFI's European Engineering Deans Council.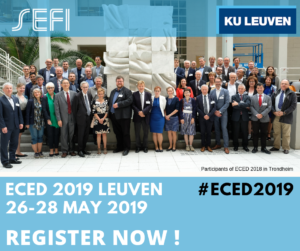 This year the ECED Convention will explore multiple perspectives of university business collaborations in engineering institutions. Our aim is to:
Shed light on the strategic and practical modalities of university business cooperation in European engineering institutions.
Explore challenges in career perspectives with respect to outgoing and incoming staff mobility.
Open a meaningful dialogue between business professionals and engineering deans.
Download the mission statement of the ECED 2019 Convention.
*Registration will stay open until 6th May 2019