The new MOOC for Doctoral Teaching Assistants of Engineering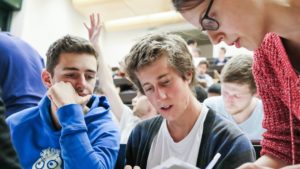 Doctoral teaching assistants play a critical role in many courses, but they often lack the time and resources to build their teaching skills. A new MOOC aims to meet this need using education data of students.
The Massive Online Open Course (MOOC) "Foundations of Teaching Science and Engineering" is the first of its kind available to doctoral teaching assistants, and the first EPFL MOOC on teaching. It's also unique because it uses real data gathered from undergraduate classes across EPFL's eight faculties and colleges by students in the master's level course, How People Learn.
Information about the course:
Some people think that teaching is simply a matter of knowing the content material and having the right kind of personality and experience.  In fact, research evidence suggests that people can become effective teachers if they learn:
the content of their discipline
the different ways students learn this content and the problems they face with it
how to manage learning in practice in a classroom.
This MOOC focuses on the second and third of these elements.
What you'll learn
What does recent research say about teaching science or engineering
What should students learn about experimentation, problem-solving and managing projects
What is good practice in presenting, questioning and giving feedback
How to manage a class and to facilitate group work
How to apply these skills when teaching exercises, labs, and projects
Ways to assess learning that are fair, valid and reliable
To apply, please click here.